The Brass Monkey is a Perth icon and the most photographed hotel in WA. You'll understand why when you see it lit up at night, beckoning hungry and thirsty pedestrians to wander in.
Let's talk about being spoilt for choice. You can monkey around in several funky areas. There's an upstairs bar and balcony overlooking William Street, sports bar and three areas of the main bar leading to the courtyard. And then there's Grapeskin; The Brass Monkey's award winning lounge & restaurant offering a wine list longer than a monkey's arm and superb, modern food. Also on offer is a huge, walk-in bottle shop and function rooms for whatever your occasion.
As a finale, we would like to welcome you to the newest addition of The Brass Monkey experience by introducing our new Rooftop bar. It features stunning views, superb craft beers and ciders, both on and off tap, The Rooftop bar also consists of the single largest selection of premium spirits in the entertainment precinct, the cocktail list to compliment the range of spirits, is just as extensive and sure to bedazzle you. If not, our 3.5 metre TV surely will, showing all live sporting events in stunning HD quality.
It takes a while to get to know The Brass Monkey, but it's worth it. Don't get lost.
With a huge selection of draught and bottled beers, wines, spirits and food styles, it's all about choice.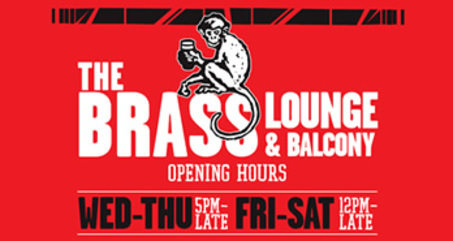 Function space that can cater for corporate and social events
Dine in the bistro, cafe or restaurant
Entertainment featuring big screen sports, karaoke, and live music
A walk-in bottle shop and wine cellar
General Opening Hours

Mon - Tue
11am - 12am
Wed - Thu
11am - 1am
Sat, Fri
11am - 2am
Sunday
11am - 10pm
Contact Us
08 9227 9596
Cnr James & Williams Sts
Northbridge, WA, 6003
Join Our Mailing List
Subscribe now for exclusive offers, upcoming event invitations and promotions from your local venue.
Subscribe Now